Remove Dashlane from Your Computer with Effective Uninstall Guides
2017.06.21 7:07 by

Patrick
Recent Posts
Popular Posts
Dashlane is a passwords manager that available for the Windows based computer, and the users apply this program to secure and manage their online passwords. People who is encountering a problem of removing this program might feel lucky here, because effective removal guides about how to remove Dashlane will be introduced in this post.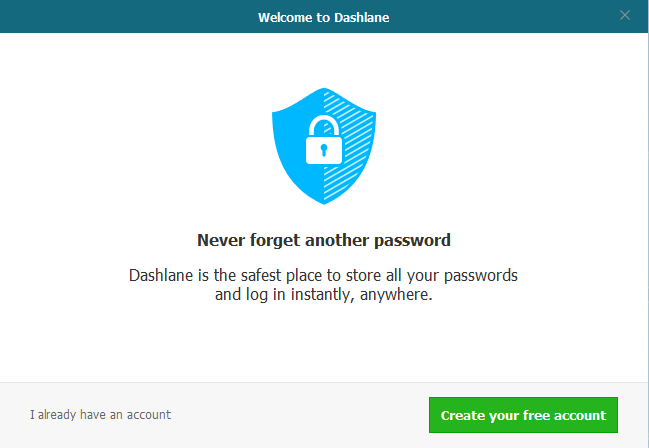 Get more details of Dashlane program
Developed by Dashlane SAS, Dashlane is a legitimate password managing program that can be downloaded and installed on the computer without any virus. Besides managing and saving the passwords for the users, it is also able to sync data to different devices including the smartphone. This application can work with such general web browsers like Chrome, Safari, Firefox and IE for helping the people to manage their passwords online, as well as automatically billing addresses, but it does not support these web browsers: Opera, Microsoft Edge or Linux.
Circumstances you may want to uninstall Dashlane:
Dashlane is not so good to use for you
Dashlane need to be reinstalled for encountering a running error
People still feel unsafe while using this password manager
Computer encounters an error and should remove the program firstly
General issues of removing the program on PC
Dashlane's configurations and add-on cannot be erased thoroughly on the web browser
Dashlane does not present on the Control Panel (Windows remover)
Associated files and installed folder are still staying on the computer after conducting the removal
Computer gets annoying error notifications with the Dashlane after removing it
If you are the one who really want to remove Dashlane but does not know the good way to perform the program removal, please check the following instructions, and you can find the best way to get rid of it from your PC.
What's the good way to remove Dashlane without any trouble
Using Windows attached removing feature
First stage of removal: uninstall the program
Right-click on the Dashlane which is still running on the PC, and Stop or Exit
Close all of your web browsers
Right-click on the Windows icon at the bottom left corner, and select Programs and Features
(If this icon has been changed to the classic start menu by Dashlane, please click on the icon > select Control Panel >>> Programs and Features)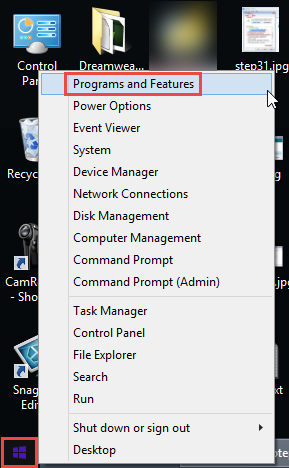 Choose Dashlane on the list of installed application, and click on the Uninstall button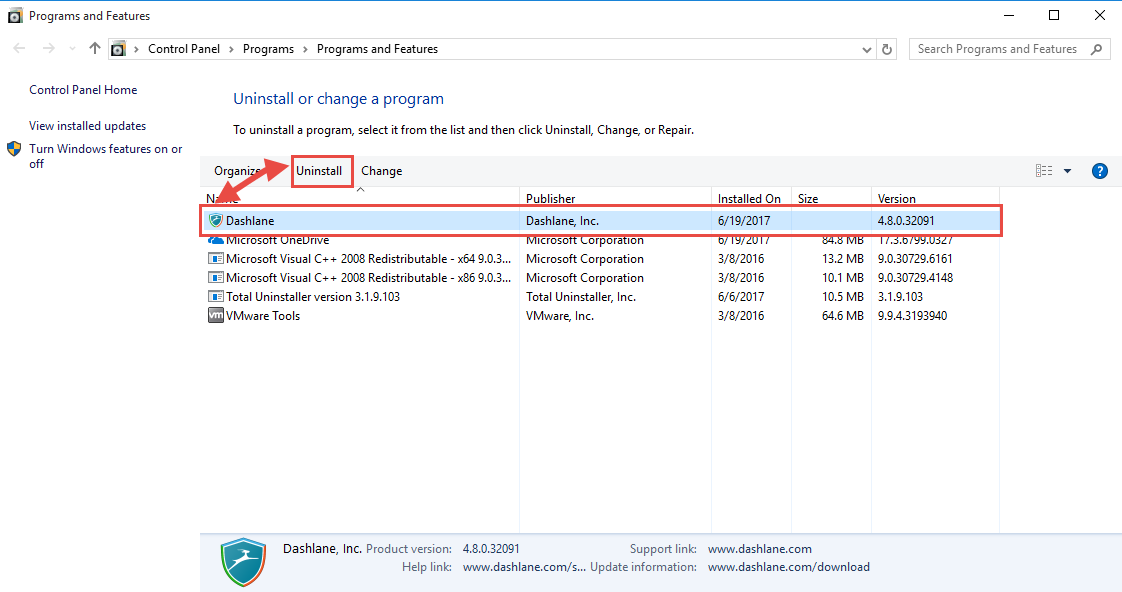 Enable the checkbox "Destroy my personal data from this computer" on the uninstall wizard, and click on Uninstall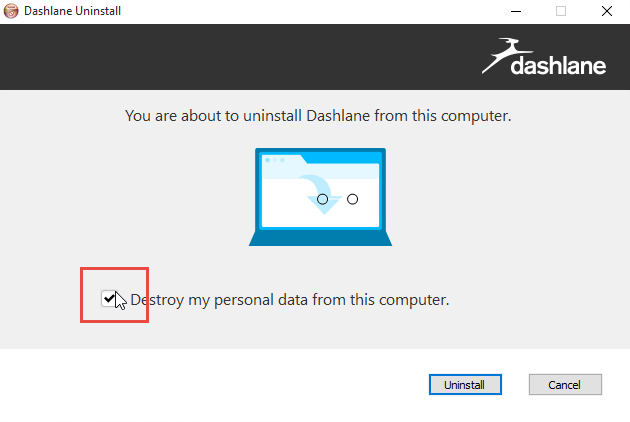 Click on Close button when the removing process finish, and then restart your computer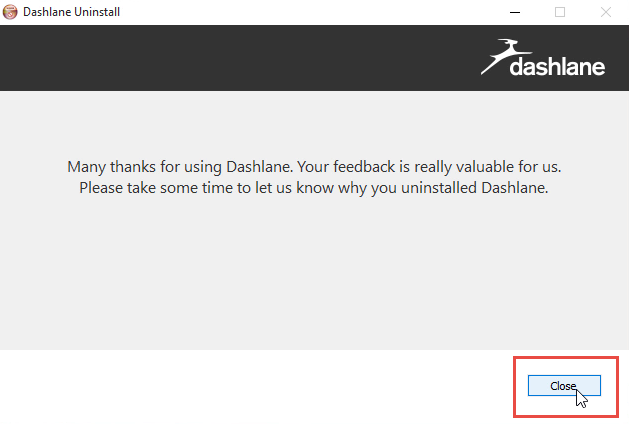 Second stage of removal: clear all the leftovers
Next, you will need to check whether all of files contained in the associated folder have been removed, and manually remove them when they still can be found on the PC
Click on Search on the start menu, and type "regedit"
Choose to open the regedit or Registry Editor on your PC, and delete those registry entries belonging to the Dashlane

Get Total Uninstaller to remove Dashlane more quickly
To get the program removal easier and remove the program more quickly, you can invite a reliable uninstall tool to help you erase the program instead of independently perform the manual removal, and Total Uninstaller just can accomplish it for the users.
How does Total Uninstaller uninstall Total Uninstaller
Launch the Total Uninstaller on the computer
Select Dashlane on the menu of installed programs, and click on Run Analysis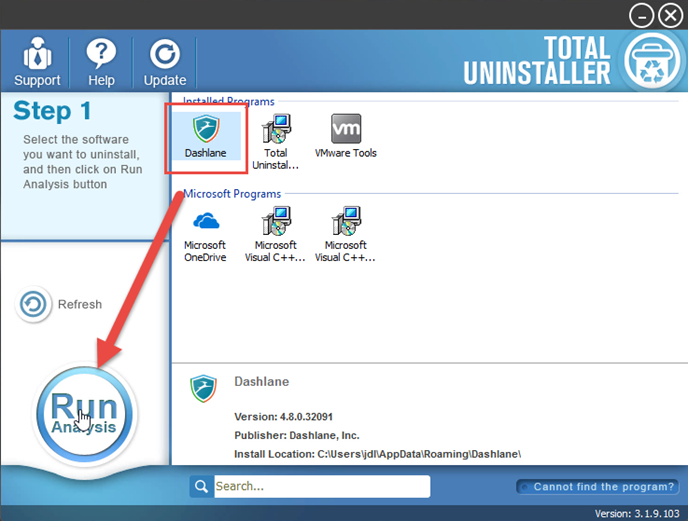 After a while, associated files and components will then be detected and listed on the menu, and please click on the Complete Uninstall button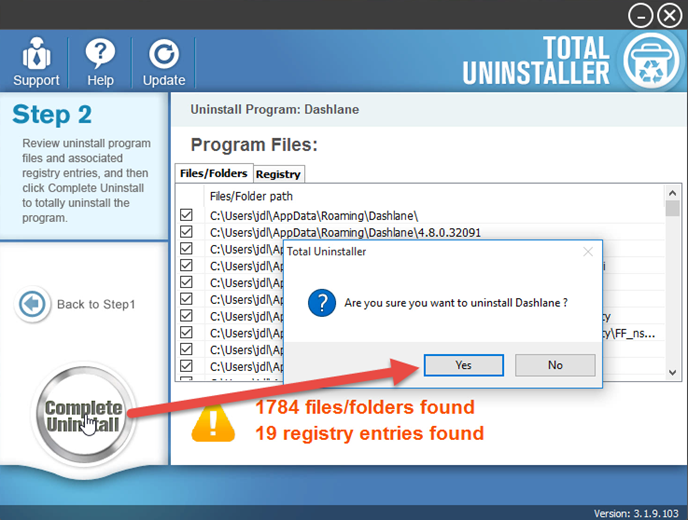 Click Yes for ensuring you decide to uninstall Dashlane
Select "Destroy my personal data from this computer", and click on Uninstall button
Click Close button to finish the removal, and then click on Scan Leftovers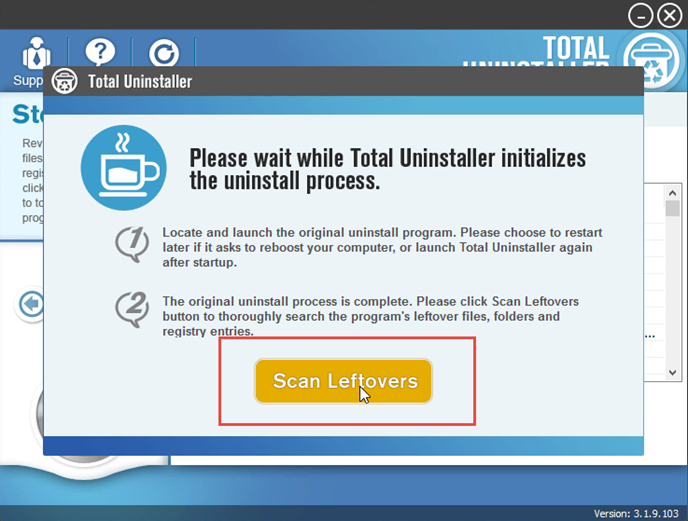 After all leftovers being detected, click on Delete Leftovers to removal all of them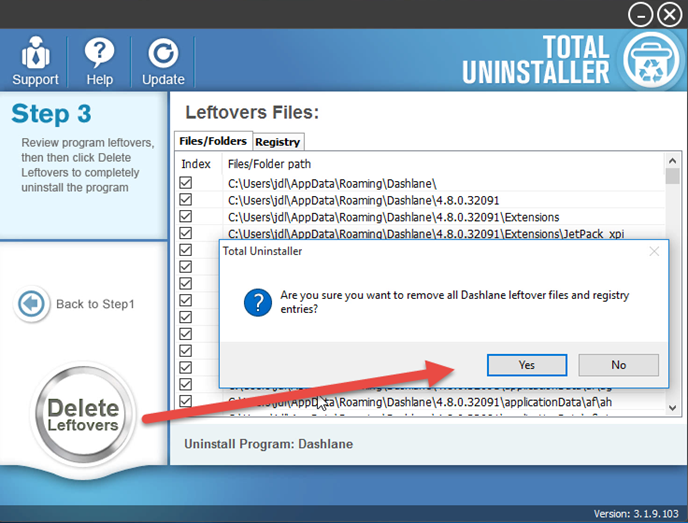 When you receive a message which tells you the app has been totally removed, you can exit the uninstaller and restart computer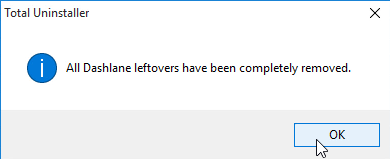 Program removal showing on the video:
As you can see that the Dashlane removal would be cleaned twice, the first one is a standard removal, and second one, it would support you to check those stubborn and hidden files, and then remove them completely with its automatic removing process. So, you will be able to remove Dashlane within a few minutes with this uninstaller.

Comment